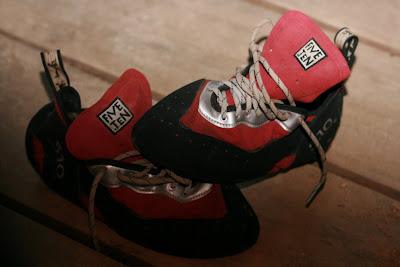 I haven't enjoyed the Wicklow hills so much in years. I got Rachel C's weekly email regarding her training run for a 44km run across Wicklow. Basically, she's out for a 20+km run every Saturday and there's an open invite to anyone interested in going along (email me if so, and I'll get you added to the mailing list).
Since the weather was looking good on Saturday, and with a tweaked finger meaning the only climbing I'm doing at present involves out of bed every day, why not. So, after a late night out for dinner in a gorgeous Lebanese restaurant and an early morning drive to the airport to drop my girlfriend off to the airport (a week in El Chorro, well for some! :), there was a quick dash to Enniskerry for the run.
Firstly, I'll just comment on the running location - it starts at Crone Wood near Enniskerry, across via the Wicklow Way to Lough Teigh via Djouce and then back again.
Starting at Crone Wood sucks! Straight out of the car and into a non-stop uphill to the top of Djouce is not cool :) Still though, it did mean i could claw back the distance as they had all left by the time I'd arrived - I'm still pretty strong on hills these days. Honestly, I haven't run that distance in a good while so it was brilliant. Honestly, I loved it. I find road running completely mind-numbing (I'm yet to decide if that's a good thing for me though ;) but put me on a hill, and it's fun fun fun fun. The ultimate way to clear the body and mind, and finished off with some quality chatting in the local cafe.
Of course, as it would happen, the fantastic day finished off with a most definite abuse of the body and mind with a night out with an old friend in Kildare. If I've ever received confirmation that I enjoy sport more than drinking, this was it. Not that the socialising wasn't great - I love catching up with friends, but the copious amounts of alcohol that are forced on you while drinking in Ireland with non-sports people boggles my imagination! I haven't been out with non-climbers/bikers/runners in a long time and I'd forgotten. It's scary! So, as you can guess, yesterday was spent just chilling out and remembering exactly why if you're ever looking to put yourself in a good mood, it involves copious amounts of sport and time with your friends (in no particular order). And only a few drinks, not the other way 'round.

Image Credit: What I'm not using at the moment. I need some bolts to kick ass on!!!!! and a non-sore finger ;)
Update: modified post to reflect some typos.