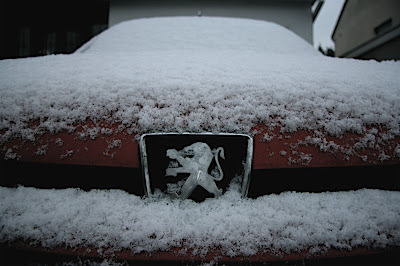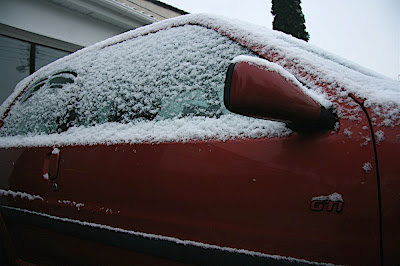 O.k., so I suppose I should clarify this. If you look at the photo below, you'll notice a little badge on the car. Most of you who know me in Ireland will be aware that I drive this little pocket rocket (- although I'm fairly certain that most of ye haven't been for a drive with me in it!
I'll clarify why I purchased it however. Back when I was a young lad (doesn't that make me sound old :), i.e. 16, I took up scuba diving. I used to get a lift out to Naas swimming pool for the training sessions with a neighbour in what was a Volvo V40 T4. Think wolf in a sheep's clothing, or a performance car for a crude description. But the guy who drove it was in his mid-40's and his logic for it was that while o.k., it went fast, he didn't particularly care about that but he liked the additional safety features that came with performance cars: better brakes, tyres, ABS, extra airbags, etc. It didn't make sense to me at the time until a deer ran out in front of us in Wicklow and I felt like someone had hit me with a sledgehammer. It wasn't us hitting the deer but all the fancy gizmos stopping us and slamming me against the seatbelt. Those memories always stuck with me.
So, when I got the oppurtunity to buy my own car, I went out with the same attitude. Only needed a small car, good mileage as I cover about 48,000km a year, some decent power for overtaking on bad country roads, and whopping brakes.
And ended up with this.
I'll be honest however, I do love to drive also. Not very fast in straight line, but I do take the odd blast through Wicklow to get to Dublin. Good stress reliever if you ask me!
The point of this ramble? Firstly, I'm getting back to writing more this year after a quiet couple of months. Secondly, I went to get this re-insured yesterday. 27 years of age with no accidents, etc. Basically a perfect record. Blah blah blah.
And.......only two companies will even consider insuring me.
Yep, rang them all yesterday and only two companies in Ireland will cover me. I'm not sure if that's a compliment or that I should be offended that I'm being branded as a dangerous driver because of my car.....sigh. Welcome to the Irish insurance industry eh? :)
Note: Since I'm sure people will ask (or at least wondering :), I have properly gone for it on two occasions (on an empty motorway so that it'll only be me affected if it all goes pear-shaped), mainly out of curiosity after reading an article about the car. All I'll say is, I broke into the 2nd round of three figures in km/hr and it was still pushing hard. And yes, it got scary so I chickened out :)
2nd Note: This was taken this morning in Kildare before it started snowing again for the past hour again. First bit of snow I've seen in a while, although I don't think I'll be taking my snowboard out in it ;)