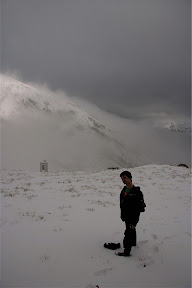 Note: added some photos to
Flickr
that aren't shown here.
So, as you'll have seen we were given/donated a van for the first month from another traveller who's crossed our path. It just shows karma and all that: in return for us driving her around for the past 4/5 weeks in Australia, she gave us her van until she arrives at the end of July. Who cool is that?
Anyway, we'd been trying to figure out a name.
Mordor was considered (hey, if you're in the land of The Lord of the Rings, you may as well be as cheesy as possible :), along with lots of highly unaffectionate names that I'm probably not legally allowed publish here....
The final one chosen: The Tortoise. O.k., so it really doesn't give a good impression of how fast she is (well, she's actually very very very slow :), but it's a roof over our heads at night and it does get us from A to B. You just don't want to be in a rush :)
So, what's been keeping me busy? A few days in Wanaka, and I'm now booked into two hostels until the end of August. After that, the snow wasn't great and I'd no interest in buying a new board so that it could be trashed on some frozen field of grass. So, a quick decision and Chris wanted to go south, myself and Sean north. So, myself and Sean set off up the west coast in The Tortoise.
Once night spent out under the stars, before we were following a recommendation from Mel for this nice and easy hike, sorry tramp as they call them here in NZ, up to one of the new mountain huts.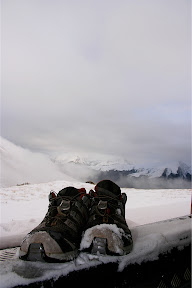 trail runners versus snow while hiking.....I'm running next time ;)
Unfortunately, this involved fording a river to begin with (see Sean below).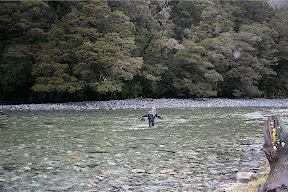 Now considering this is the middle of winter here, I've got no thermal gear and only a pair of runners with me, this would probably be considered by most to be an un-wise idea. Hey, you only live once :) Still though, one VERY cold 20 meter dash through the water, 2 hours of hiking a vertical 1000meters and we were sitting outside Mt. Brewster's newest alpine hut. Yep, it's in the snow. As you can guess, ankle deep snow in runners means soggy feet. All good fun really! It brought back memories of a daft adventure into an amazing climbing crag called Mill Creek (when am I going back?) in Utah........don't ask. Still though, lunch and a 20-minute game of haki-sack later, and......we were still freezing. Right so, back down the hill, through the river, and into The Tortoise. all in all, a fun day out in the mountains. I can confirm there's a lot to be said for hiking/tramping in shorts, even in winter – although waterproof footwear is probably a good idea!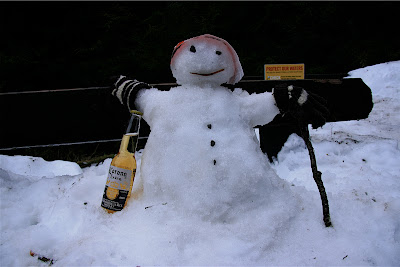 Unfortunately not built by us, but it looked pretty cool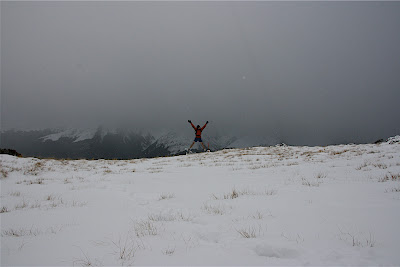 Warm-up attempts while tramping. There's a lot to be said for just going hill-running ;)