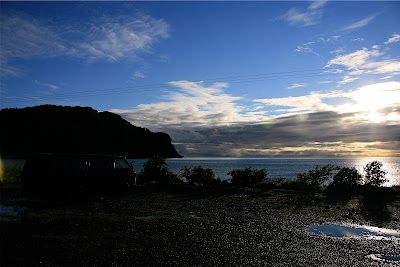 Bed for a night at Jackson Bay, nice view to wake up to!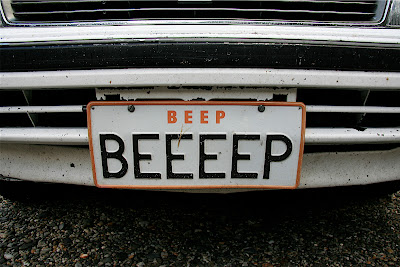 As seen on a car along the road. Yes, it was parked when I took this.....
From hiking, it was a drive (the hare would have beaten us in this race ;) up to the two big attractions of the west coast: the glaciers. Their cool (litterally) party trick is that they descend all the way to 200 meters in altitude meaning they've below the snowline! Bit crazy, and nicely intimidating from up close. Surprisingly, they didn't make a lot of noise, unlike what I remember of the Euro-glaciers which sound like they've got a heavy metal band locked underneath the surface at times. Strange.
Un-edited for colors, a glacial lake at Fox Glacier
Still though, they're a fun place to walk, and it's pretty impressive how many warning signs (see below) you have to cross to get within even a kilometre of them! It seems some people have the bright idea of climbing into the cave right on the front of the glacier (eh people, this ice is moving and really really fragile?!?!?) involving lots of rescues so they try to deter them by putting signs and fences miles back. Pretty scary to hear stories of people climbing in over the blocks of ice (which have fallen from the roof) to get into the cave........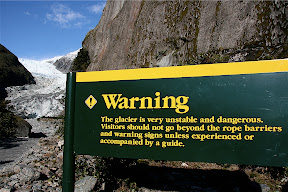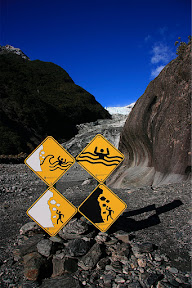 The coolest set of warning signs I've ever seen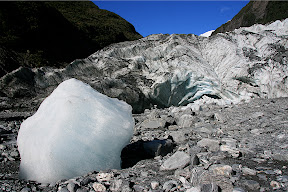 Block of ice about 100meters in front of glacier - glacier is about 400meters wide currently
So, in between that, we were up to get the obligatory photo across the lake (thankfully beating all the tourbuses as we were there at 7:30am, before sunrise). Very pretty, and I think I need more practise at this type of photography ;)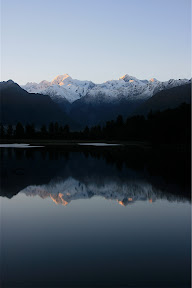 Sunrise reflections of Mount Cook, New Zealand
From then on, it was another trip up along the coast in search of my
Blockbuster Of The Summer
- come on, I still remember these from when I was a kid growing up :) After several distracting stops to drop our jaws at the size of the beaches and the sunsets, we arrived into one of the coastal towns to find.....no cinema. One 40km drive later, and.......the next showing was 4 days away?!?!? Oh well, it wasn't meant to be.
We did get to see some of the smaller towns in action though. It felt like Newbridge, my home town back in Ireland. Lots of boy-racers tearing around (although here they're all driving rally cars), i.e. up and down the main street doing absolutely nothing whatsoever. The only difference to home? The pubs are very very empty! Even on weekend nights, and there's only about 30/40 people in each pub. Very odd...

A bit sleepy so probably better you can't see me :)