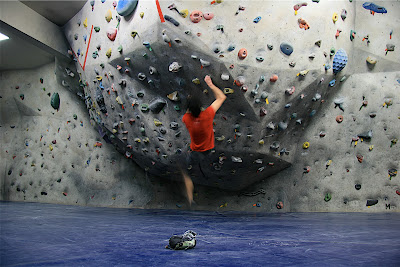 O.k., I'm sorry to all those who are stuck working and I'm keeping people sane by climbing most days outdoors. Unfortunately the weather is crap and I'm feeling weak so it's back to the plastic for a while (well, until the snowboarding is over!).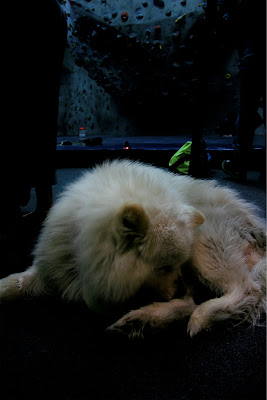 And finally meet Gandalf. No, he's not a carpet but he may as well be. One of the guys who works at the local gym (The Roxx, Christchurch, New Zealand) owns him. I've never met such a lazy dog, spending all of his time in this position or something similar in a different location at the gym (to the Irish climbers out there, that's just one little bit of the bouldering WALL - separate to the main wall - at the gym. Our walls at home are light-years behind in comparison).
And since this is such a boring post, I think I'd better move on so that I can try record some video of us snowboarding like Enda's video (recorded by myself by putting a camcorder in my hand upside down while snowboarding, so all footage is recorded while guessing what direction to point the camcorder - not bad considering I'd never done it before!). Hopefully have an interesting post for y'all soon! :)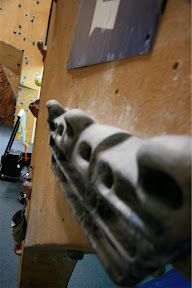 The closest thing to climbing I'll be doing for the next 6/7 weeks!