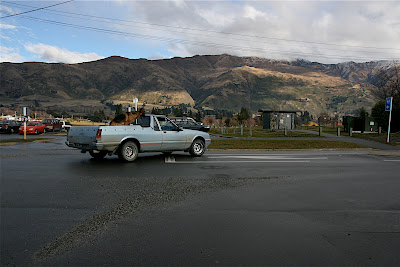 Things you can't do at home anymore due to litigation/danger/etc. Probably a good thing :)
So, arrival in Christchurch and it's a case of adapting to a new country once again. It's all so little! (in comparison to Oz :) Just to put it in perspective: New Zealand has a population of 4.2 million (same as Ireland) and is the same size as the UK (not the same as Ireland :). For anyone who's been through the UK, you'll know that there are roads everywhere – not so here, there is a huge amount of freedom and nature to take in.
First impressions of New Zealand? It's pretty relaxed, and amazingly, considering they spend all their time moaning here about their lack of a strong currency, the infrastructure is great and facilities are very good. Amusingly for me, the road network is in better condition - considering how much rain they get in this country, how come the primary excuse at home for poor country roads is that they can't keep the road network in a decent condition due to the amount of rain we get? Kind of puts that excuse to shame!
The more hillarious part so far is the Kiwi attitude towards housing and heating. House prices are more expensive than Ireland (believe it or not, average house price in Queenstown is about 350,000 Euros), but they haven't a clue how to build a house! I think they've all watched too many episodes of Beverly Hills 90210 – the houses are all huge, but in doing so, they seem to have forgotten about the fact that insulation is a good thing. It's the only country in the world I've ever been to that when you walk into someone's house, you usually have to keep your jacket on if you leave the sitting room as there's no such this as heating bar a wood fire which only heats that one room. Very sweet and it still cracks me up!
Still though, this place is a country of big mountains and big seas. Just an hour out of Christchurch, and you're parked at Arthur's Pass at 900metres, with a 2200metre mountain right beside you. Not bad at all!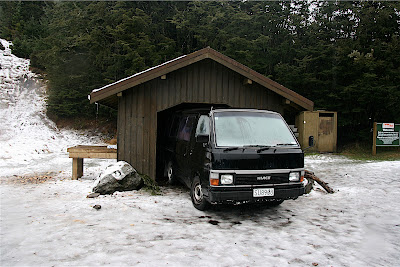 Our van reversed into a shelter to seal the door :) It was pretty cold ;)
We haven't managed any climbing yet. After three days of chilling out in Christchurch (pricing snowboarding gear – very expensive :(, collecting our van, etc.), we hit the road for NZ's most famous climbing destination – Castlehill. O.k., it's bouldering, but this is what the country is famous for! Unfortunately, it rained that night and continued to rain heavily for the next 12-16hours (proper rain – rivers unpassable, etc., so we abandoned ship and headed to what will be our long-term home (i.e. for 6 weeks): Wanaka.
Wanaka, snowboarding/skiing capital of NZ. Popultion of about 3,000, it swells to about 5,000 every winter. As you can guess accommodation is a bit rare, so for our 6 week stay, we're booked into three different locations. A bit messy, but such is life.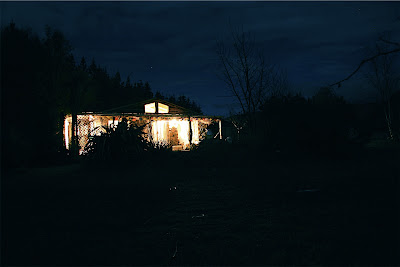 Melanie's house in Wanaka. Hopefully conveys how pretty it is here, even in Winter...
Our view of Mount Cook :)
So far, it's pretty good here though. A lovely little town, and (good and bad) is full of Brits and Irish. Word has got out about here......
Worrying news so far is the local's attitude towards the snow. The can't believe we've all been buying season tickets for one location – the snow only seems to stick around any one location for a 3-4 weeks at a time before it can potentially all be melted and re-appears at another resort in the country. This is most definitely not my wannabe-home, SLC, or Europe! Speaking of which, mmmm, SLC............HAP, when are we meeting up?