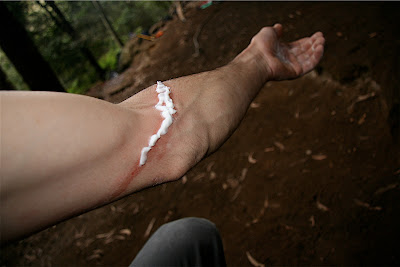 How not to fall off a route! Zip the rope across your elbow causing a half metre long burn strip. Taken immediately after falling off, dousing it in antiseptic cream (the only stuff we had), and a few hours before someone had the bright idea to try using Aloe Vera sunburn cream on it. In the words of Ralf from The Simpsons: "owwwwwww, feels like burning....."
The route? An 8-metre grade 26 (7b/5.12?) with the slopiest holds in the world to clip the final chains on – guess where I fell off :)
As you can guess, it's stopped me climbing since then due to the fact that it's right across the joint. Doh! At least it gives me time to prepare for the final few days in The Grampians – I want to tick that 29 (8a/5.13b) that I was on before, and also have another route or two to take care of there.....
It does mean that my experience of Nowra has been very short – in total one climbing day (of routes – not including training days at the bouldering wall) so far. Oh well, another time!
I did get to try a grade 30 (8a+/5.13c) here however. At 8 metres long, it was essentially a boulder problem. Of the 17 moves required to get to the top, I couldn't do 5 of them!?!? Granted this was about an hour after the rope burn so my arm was a little tender but even still, I'm in awe at how strong the locals are. Looks like I lacking in some strength at the moment (something I knew already!). Fun fun fun :)
Update: 4 days after the burn. The pharmacist refused to give me any bandages after I scared away some customers on him :) However, the winning cream in helping my skin repair? Climb-On Creme!!!!! This stuff is awesome, keeps the burn cool, moist (I can't bend arm as it's across the elbow), and it doesn't sting! And it's loaded with Vitamin E which means it's heeling amazing quickly. Buy some for every household. Note: this is the creme and not the bar.