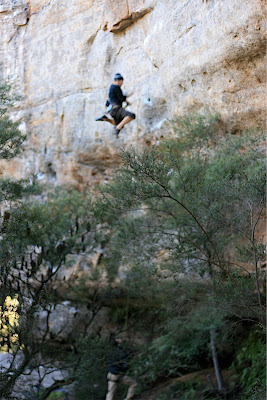 Mike, a German now living in the area, catching some air time off his current project. Grade 7b, unknown name. And yes, I'm trying to be arty with the climber being out of focus :)
The next day we were back in the Bermuda Triangle (the local's name given to a large collcction of climbing areas that climbers seem to get lost in and never end up making it to any other locations in The Blue Mountains – Centennial Glen, Porters Pass and Shipley Upper).
I got absolutely beaten up on one of the crimpy testpieces. Grade: 7b+, a grade I normally have little or no difficulty with! Local climbers must be really strong if this is meant to be easy.....like I said, it's hard work here :)
A rest day on the Friday, and I was back on the same route first thing on Saturday morning. A mistake on my first go, left me with with two completely skinned finger-tips and missing the skin off the back of two knuckles, and a vague attempt to try and not leave too much blood on the wall. Oops.
2nd attempt (after taping my sorry mess of a hand together) and it was done. Phew. As a confidence booster, I managed to onsight the route next door, a 7b. Maybe I'll adapt to the climbing here quicker than I hoped! The day was finished off with a pile of laps on the same route. you can guess I slept well :)
The sleep was also helped by some Sydney-based climbers turning up. It just so happened that one of the guys' wives worked for an off-license and with over 700 (you read that right) bottles of wine in their house, meant that a highly social evening took place in front of a campfire (and the pizzas) under a near-full moon. Yes, they all thought we were daft for adopting a dog ;)
Next day was spent once again in the Bermuda Triangle, but a different location (only another 2 minutes walk away – you can see how people get stuck here as everything is so close). I needed some mileage so spent all day trying to climb some of the routes by the hardest method possible. Sean ticked off one of the 7b's and Chris is close, real close. I decided that scaring myself by hanging at the top of the cliff by two 25 year old bolts would be a great idea :) You'd better like the photos, my back was so stiff from hanging almost upside down to get these photos, it took me almost 40 minutes of stretching this morning to loosen it up :)
Sean on the steep, final moves to Rubber Lover (25 or 7b) on Wave Wall
In between all this, Julie-ann decided to scare us (again) by falling off with the rope in her hand while about 3 metres above her next piece of protection. One major free-fall later, she was laughing it off, and we were all wiping her brow that she hadn't been any higher above the protection, otherwise the ground would have stopped her fall and not the rope! Lesson learned for her though, I don't think it'll happen again.