Nowra is quite an unusual climbing area. It's right in the middle of the town! Population 32,000, it's split along the banks of a river leading directly into the sea. It's not overly flat in the city however, meaning there's lots of cliffs. Nowra climbing's most original feature is the fact that none of the routes finish at the top of the cliffs as you'd be climbing directly into someone's back garden :) I kid you not!
It's also got the 'features' of a city climbing location. Some unsavoury characters making the cliffs their homes at night, and all of the cliffs are heavily graffiti-ed, giving it a not-so-welcome feeling to the place. Still though, the style of climbing is power, power, power. Routes are only about 8 to 15 metres long meaning the holds are tiny and not very positive. If I had any worries about feeling weak, this place will sort it out for me....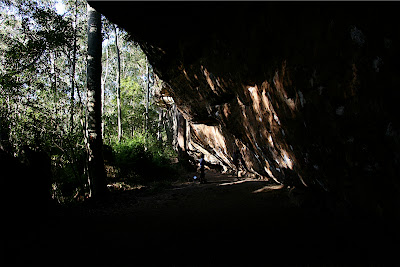 Photo taken of one of the small bouldering areas. You probably can't see it but there's graffiti all over the walls. Thankfully, we don't have to climb here, as it's not the most appealing of locations! This however, is my fingerboard training wall while I wait for my skin to heal ;) We're also directly below someone's garden in here!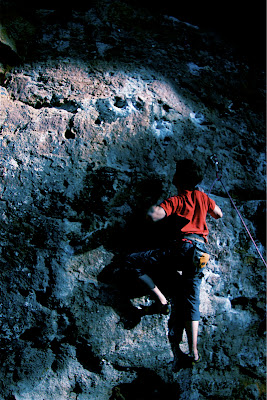 Sean trying hard on a grade 26 (7b+/5.12b). Photo modified using iPhoto for color (Macbook)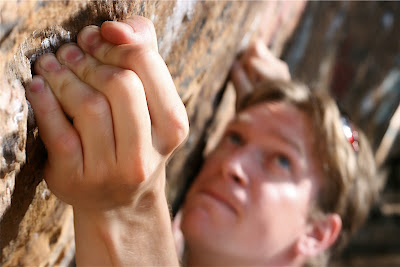 Chris occupying himself in one of the city playgrounds :) Photo is staged, thought we'd have some fun ;)