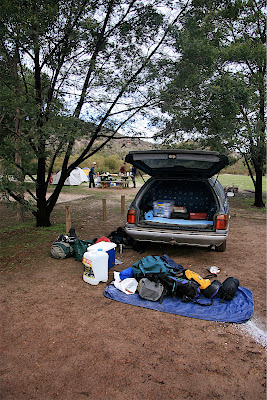 Take 5 people: myself, Sean, Chris, Julie-ann (UK), Tee (Canada)
Take all their hardware:
4 tents
two thermos boxes
3 food boxes
4 stoves
2 ropes
50 quickdraws and a full rack
11 pairs of climbing shoes
4 harnesses
4 sleeping bags
6 roll-mats
2 laptops
4 60 litre rucksacks
4 day sacks
7 pairs of runners (running shoes, etc.)
lots of miscellaneous other junk
Instructions:
remove floor boards and wrap all climbing gear around the spare wheel. Slowly (and very carefully) pile equipment on top of the fuel hoses (underneath the spare wheel), not damaging them). Replace floorboard and sit on it to compress previous equipment.
Place spare peg into round hole. No seriously, spend over an hour putting everything left over into boot.
Place arm across rear pane of glass as you lower and (to stop it shattering when you....) slam boot closed. Quickly lock the boot in case the lock fails :) Stand back and wait to see if rear window explodes.
Check ground clearance (about 4mm as it happens ;) and hope that car won't collapse from strain!