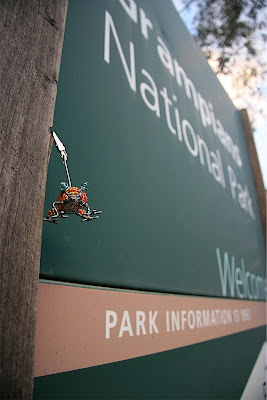 So, our current time in the Grampians National Park has ended.
The final plan had been: Saturday and Sunday climb, leave on Monday and make the long (1050km) drive back towards Sydney to the Blue Mountains.
The weather however had different ideas. After rolling out of bed (45 mins late) for my planned jog, I got my payback for my sluggishness. The skies opened and I spent the next hour and a half in a deluge. But what fun! Following the sign-posted trails to the top of the nearest hill, Mt. Stapylton, and around under the spectacular Taipan Wall (world-famous in climbing circles), it turned into a most adventurous morning following the vague red arrows that are painted on rocks to define the path (I use that word very loosely!) that crossed the summit sandstone slabs. In near zero visibility and rock that had as much friction as a wet grassy field, it made for a most interesting adventure. It kept my speed down on the upper section but fun fun fun. Managed a consistent 3:50 for the last 4km also which was pretty good for me considering the conditions and my first run in quite a while of that time.
Anyway, as always, after plotting out the meaning of life, how Pop Idol ever did become so famous, what I was having for breakfast and how long I could leave my hair growing before someone started slagging me off in this blog's comments (longer than expected it seems! :) - basically all the sort of things you think of while running on your own – I had the ingenious idea that maybe we should leave early and make a detour.
Now some of you will know my type of 'idea'.
So after gently persuading the gang (easily as it turned out), we made the 8-hour detour to the outback :) No-one seemed to really notice!
Where did we end up? Broken Hill, north-western New South Wales (NSW). At the very end of the last tarmacced (is that a word?) road in NSW. A bit of a late arrival ensued involving being stopped by the police at 12am to question our sanity. NO ONE drives here at night due to the kangaroos! Oops.
Still though, they were very helpful and delievered us directly to the nearest caravan park. We'd planned on sleeping in the outback but hey, since it's so late we couldn't complain!