So, for your weekly amusement, here's the status update on the current Three Amigos.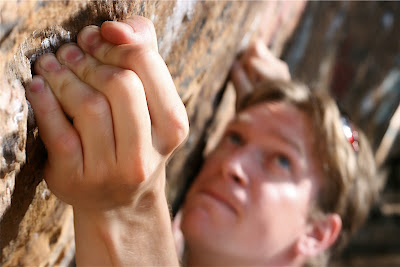 Meet Chris, our newest arrival from Ireland.
He arrived via South Africa, his homeland with an aim to have fun, take a bazillion photos (currently on target and using up every bit of storage space we have), and an aim to climb the grade of 7a in the course of whole trip.
well he climbed 7a on his 4th day, and then climbed 7b a week later. It looks like myself and Sean have some competition!
And last but not least, his two sidekicks. Unfortunately Sean has lost the beard as he was beginning to look very wise :) As you can guess, we're well settled into the camping lifestyle. Although have to say, every once in a while we do appreciate four walls and a roof :) We ended up going to Spiderman 3 last week in the local cinema. wow, it was an old converted theatre which meant that yes, the stage was still there and intact. Along with the two concert speakers beside the screen (no fancy 9-speaker surround sound systems here!), it felt a long way from the fanciness of cinemas in Ireland!