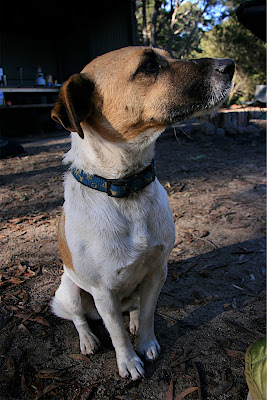 Meet the newest addition to our team!
This little guy wandered into our campsite a few nights ago, and was obviously abandoned or lost. He's got a collar but no name, is perfectly house-trained, and super-tame. It took all of 2 seconds for the group to adopt him :)
His new name: Shiver. Unfortunately that's all he did when we found him. As the temperature has plummeted to about -2 degrees celcius at night (we're camped at 1100metres), he's even got a bed at night in the car or a tent. Along with the dogfood that's been purchased for him, he's living a good life for a while :)
Much to my disappointment (cause we can't keep him), he's a brilliant crag dog (we bring him along always now), but since we're on the road we're currently in discussions with the local vet and other possibilities to find him a more permanent, good home. Or if we're even more lucky, we'll find the original owners as since he's such a cool dog, I'd say they miss him.
Yes, none of us (especially me) will miss him when we have to give him away!